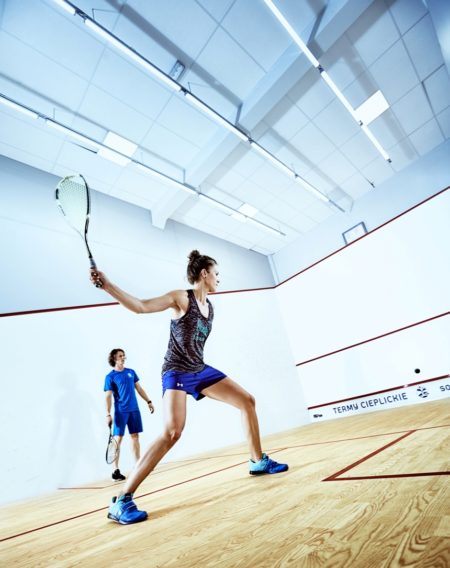 AXION LED for squash courts
high LED luminous efficiency (up to 207 lm/W)
 LED light source lifetime: min. 100,000 h
 electrical power: 50W
 colour temperature: 5,000K
 luminaires length: 1504 mm
 voltage power supply: AC 230 V
 ingress protection: IP 54
 internal power supply system
 LED OSRAM Duris E5
 lampshade: matte
ball impact resistance
uniformity of illumination
 100% ecological project
 low operating costs
We deliver AXION LED lamps for SQUASH to your country!
Ask for delivery details: info@ledberg.pl
Country of production and shipment: Poland
Squash courts illumination is an important element affecting the quality of the game. Mismatched lighting can cause reluctant of  players to use a sports club. The most common reasons for customer dissatisfaction are following: too weak illumination (players can not see a squash ball), strong glare (a player feels clear discomfort of view after looking at a lamp), uneven illumination (the squash ball casts few shadows on the court).
LED for squash courts
The LEDBERG company has developed a professional LED lighting system for squash courts which ensures the best quality of light on the court. Our LED lighting system (AXION LED for squash courts) achieves the necessary level of illumination (500 lx or 700 lx) and provides good visibility of a squash ball not only in the central part of the squash court but also in all four corners. During the designing process of LED lighting fixture dedicated to the squash courts we paid particular attention to the distribution of light so as to provide maximum comfort to players during the game.
An important feature of our LED lighting for squash courts is low power consumption and very high reliability. Significant energy saving and low operating costs make the owners of sports clubs choose our LED lighting systems not only for newly-built squash courts, but more often they decide to replace the old type of lighting for LED lighting fixtures from  LEDBERG.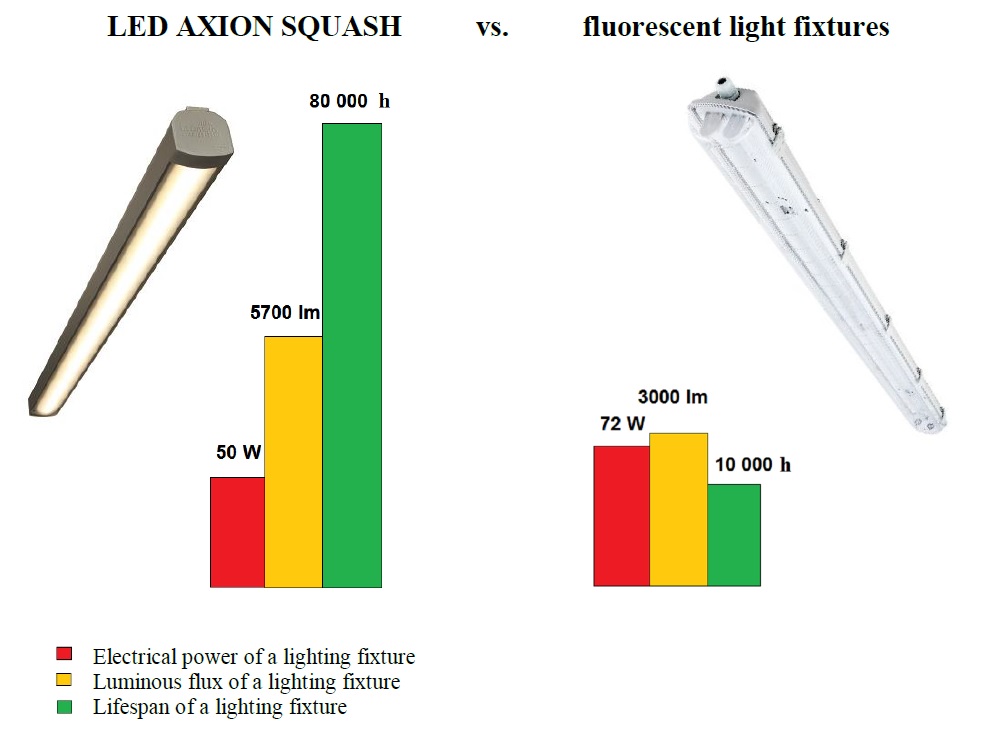 The power of a light system on a court to achieve the light intensity of 500 lx

Why should you use the AXION SQUASH LED luminaires?
1. Electricity savings per a squash court are at least 2500 kWh in a year *;
2. The lack of stroboscopy ensures good visibility of a squash ball;
3. The AXION SQUASH LED lighting system ensures uniform light distribution on the court;
4. Very low failure rate of the AXION SQUASH LED luminaires and low operating costs;
5. Easy installation of the AXION SQUASH LED luminaires;
6. AXION SQUASH LED luminaires emit light which is healthy for the eyes (AXION SQUASH LED luminaires have a photobiological certificate) and they do not blush while playing;
7. AXION SQUASH LED luminaires are manufactured in Poland with the highest quality components (OSRAM LEDs, TRIDONIC power supply system);
8. AXION SQUASH LED luminaires are resistant to squash ball impacts and require no additional protection.
If you have questions about the lamp placement on the court, do not hesitate to contact us:
info@ledberg.pl

* Calculations based on the following assumptions: luminaire lighting time – 10 hours / day, 362 days per year, lighting intensity on the court min. 500 lx